To book the author for an interview, speaking engagement, book signing, or appearance, and serious filmmakers interested in the screenplays of either 94 Maidens or Mrs. Graceland, or both, please contact the writer at [email protected].
"It wasn't my choice to write this story…it was my responsibility."
~ Rhonda Fink-Whitman
U.S. Congressman Brendan Boyle (right) presenting Rhonda with Congressional and State recognition for her work promoting Holocaust education. Also pictured, Rhonda's husband Mike (left).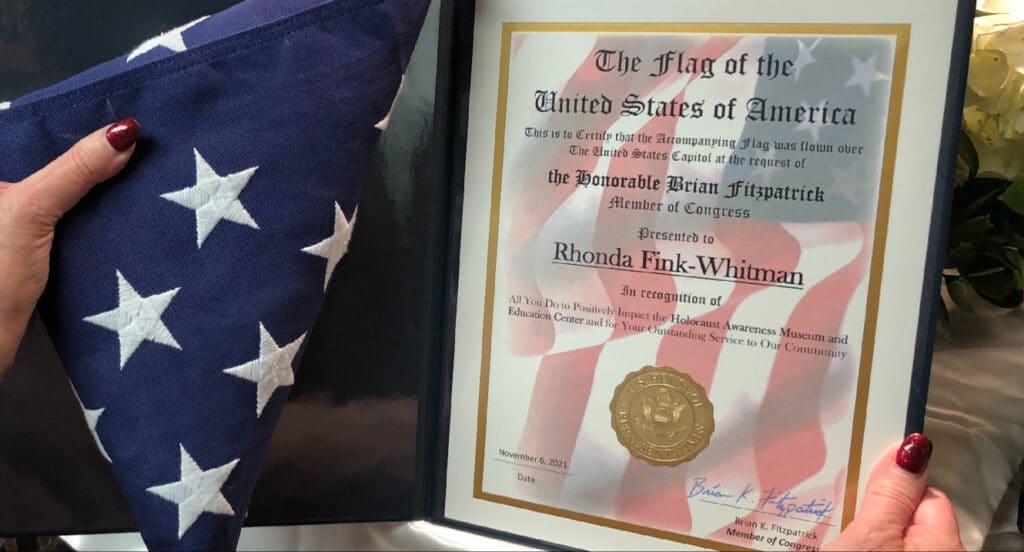 Award from U.S. Congressman Brian Fitzpatrick. American flag flew over the U.S. Capitol Building in Washington, D.C. in honor of author/advocate Rhonda Fink-Whitman.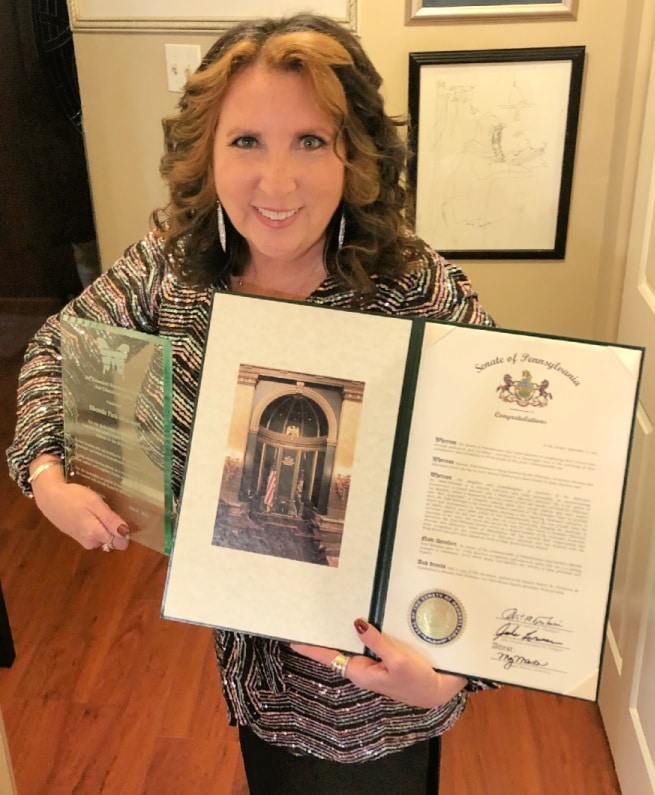 Author/advocate Rhonda Fink-
Whitman with her award from the State Senate of Pennsylvania from Senator Tommy Tomlinson, and an award from the Holocaust Awareness Museum and Education Center of Philadelphia.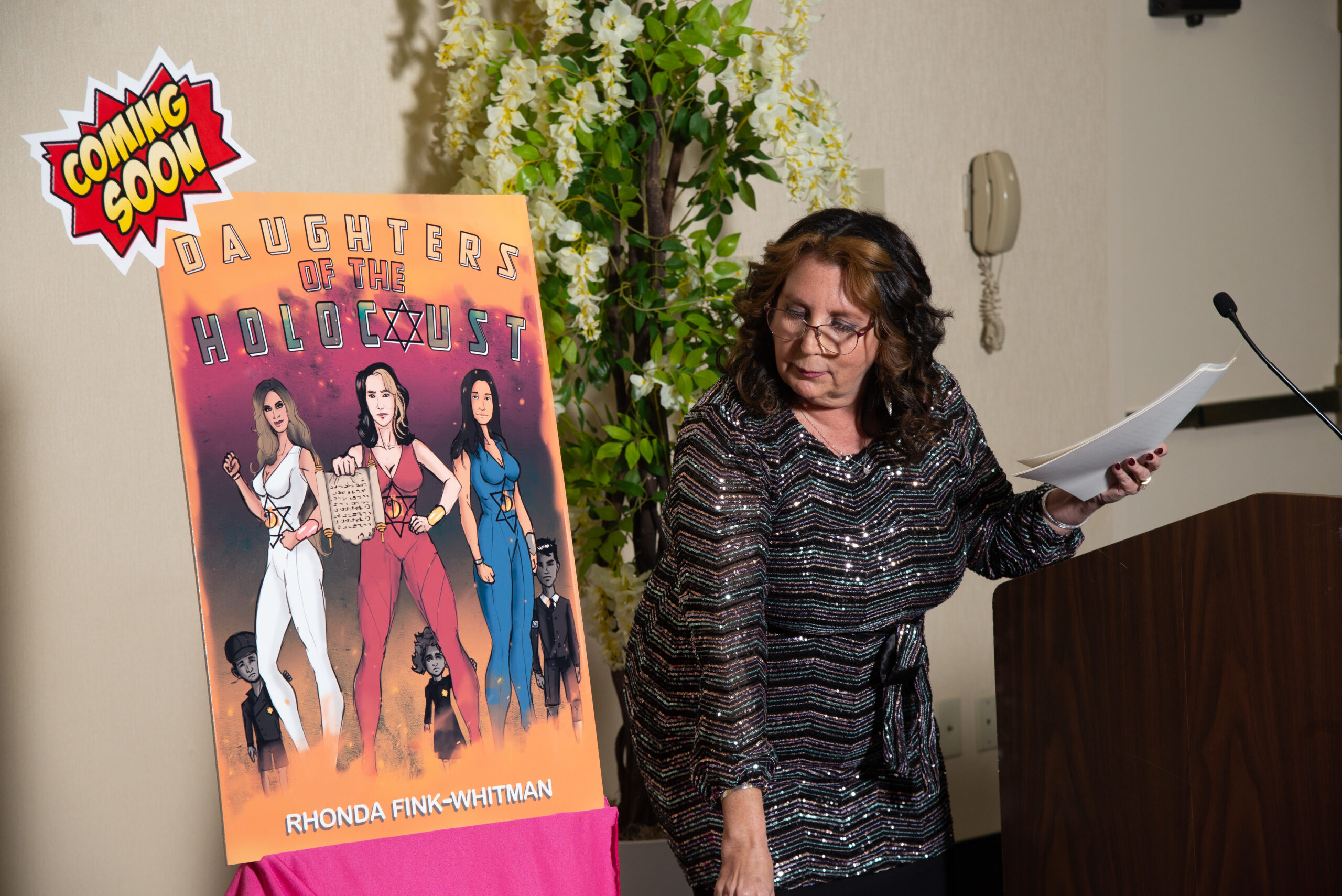 Author's next project!
A graphic novel;
"DAUGHTERS OF THE HOLOCAUST!"
Coming Soon!
"It wasn't my choice to write this story…it was my responsibility." ~ Rhonda Fink-Whitman
Rhonda Fink-Whitman is a veteran TV and radio personality as well as an award-winning screenwriter, longtime Jewish educator, Holocaust education advocate, and the daughter and granddaughter of Holocaust survivors.
She is the author of 94 Maidens – a novel inspired by the true events of how her mother survived the Holocaust, which is used, along with it's free downloadale teacher's guide, in middle and high school classrooms across the U.S. to teach about the Holocaust. She's also authored Mrs. Graceland – a light-hearted fictional romantic comedy about love, second chances, and what matters most, and most recently has published her first graphic novel, Daughters of the Holocaust. All three books are available on Amazon in Kindle and Paperback.
Rhonda is the director, producer, and host of The Mandate Video on YouTube, which helped convince Pennsylvania legislators to enact a law requiring Holocaust and Genocide education in all public, charter, and cyber schools in the Commonwealth. Rhonda was present as her governor signed the bill into law on June 26, 2014, historically changing the landscape of education in her home state of Pennsylvania.
Her work in PA paved the way for other states to mandate Holocaust and genocide education. Since Rhonda's video went viral, and with her support and guidance, states including Michigan and Rhode Island in 2016, Kentucky and Connecticut in 2018, Oregon and Texas in 2019, Colorado, Delaware, and New Hampshire in 2020, Arkansas, Wisconsin, Maine, Arizona, and North Carolina in 2021, and Nebraska, Missouri, and Oklahoma in 2022 successfully passed similar legislation. Rhonda has been credited with starting the recent wave of renewed interest in mandating Holocaust education and has helped increase the number of mandated states from five, when she first got involved, to 23 and counting. Rhonda currently advises advocates who are working toward mandates in several of the other 27 states.
Rhonda has received both Congressional and State recognition for her work and her commitment to Holocaust education, the B'nai B'rith Educators Unit Hatikvah Circle of Hope Youth Services Award, and certificates of appreciation from several chapters of Hadassah. She is on the board of the Holocaust Awareness Museum and Education Center of Philadelphia and was honored by the museum for her work at its annual fundraising gala in Nov. 2021.
In addition to promoting mandated Holocaust education, Rhonda facilitates programs bringing Holocaust survivors to speak at schools and other organizations.
Rhonda lives near Philadelphia with her loving and supportive husband, two cool cats, and one giant gem of a pup. She has two grown children who fill her heart with pride and joy every single day. She's been a USO volunteer, and during the height of Covid-19 delivered weekly meals to the needy with her son. Rhonda loves the simple things in life like a strong cup of tea in the morning, spending as much time as possible with her beloved mother who inspires her tireless work, and an ocean view any time of day.
Ms. Fink-Whitman is available for live in-person and virtual speaking engagements, as well as book club appearances.
Contact her at [email protected].
HOW DOES YOUR STATE MEASURE UP?
In 2020, the Conference on Jewish Material Claims Against Germany (Claims Conference) released the U.S. Millennial Holocaust Knowledge and Awareness Survey, the first-ever 50-state survey on Holocaust knowledge among Millennials and Gen Z. The surprising state-by-state results highlight a worrying lack of basic Holocaust knowledge, a growing problem as fewer and fewer Holocaust survivors – eyewitnesses to a state-sponsored genocide – are alive to share the lessons of the Holocaust.
"The results are both shocking and saddening and they underscore why we must act now while Holocaust survivors are still with us to voice their stories," said Claims Conference president Gideon Taylor. "We need to understand why we aren't doing better in educating a younger generation about the Holocaust and the lessons of the past. This needs to serve as a wake-up call to us all, and as a road map of where government officials need to act."
Find your state info here
Results of Rhonda's Advocacy
Contact the author at 94maidens@gmail.com to have her come tell your organization all about it.
Or to have her help YOU get started down the road to mandating your own state!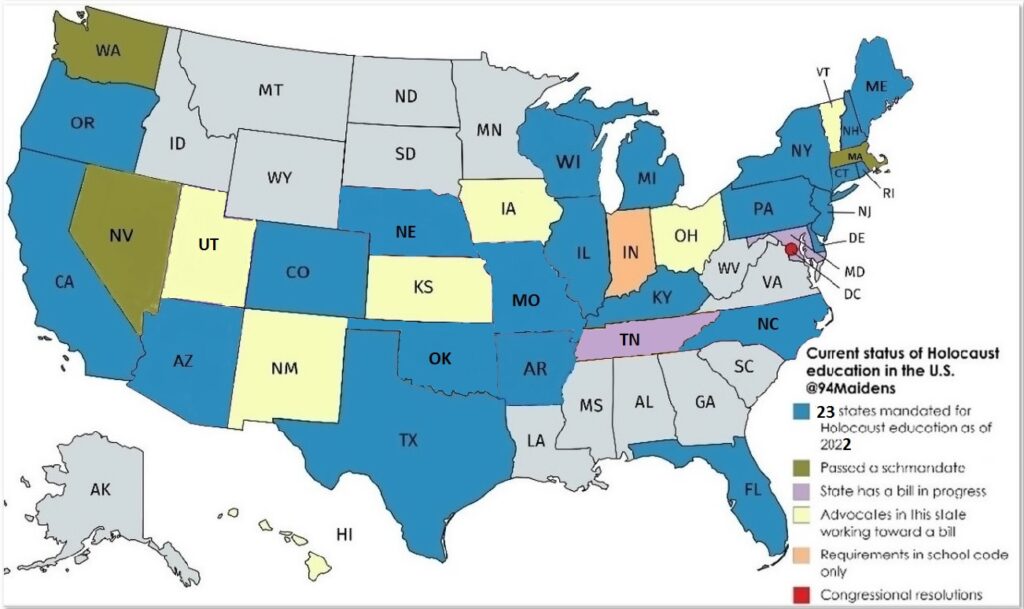 WHAT THE HECK IS A "SCHMANDATE?"
Good question! Thanks for asking!
"Schmandate" is a word that author Rhonda Fink-Whitman made up to describe a lame bill that has no teeth. It's the opposite of a "Mandate."
By comparison, an actual good, strong, solid Holocaust education "Mandate" contains the following four simple elements:
1. REQUIRES Holocaust education – It is IMPERITIVE to include the word "HOLOCAUST" in the bill
2. REQUIRES that an age-appropriate curriculum be built
3. REQUIRES that teachers be trained
4. DEFINES the HOLOCAUST as the state-sanctioned Nazi-perpetrated genocide against European Jewry between the years 1933-1945
Even if a bill contains only #1, #2, and/or #3 of the above requirements, it is still considered a mandate.
A "schmandate" contains none of these. Some states have passed schmandates instead of actual Holocaust education mandates for reasons known only to the legislators who voted to pass them. Perhaps they are intended to allay the public outcry for legislatively required Holocaust education. But they're not fooling anyone. In fact, "schmandates" are WORSE than no law at all, because it will be perceived that a Holocaust ed law was passed and state legislators will rightfully move on to pursue other issues. Then it will be years, if at all, that Holocaust education requirements will ever be revisited and considered by your state legislators again.
Examples of SCHMANDATES:
Washington state's 2019 law only encourages, but does not require Holocaust education, nor any teacher training or curriculum development related to Holocaust education (Set to be reviewed by Dec. 2022 for possible modification to change law to a requirement. Fingers crossed!)
Nevada's 2021 law forms a subcommittee to do a redundant study (been there, done that – see 2020 Claims Conference State by State report above) to submit for consideration sometime in the future as the NV legislature only meets every other year (Yawn)
Massachusetts' 2021 law requires "Genocide" education, with no mention of Holocaust, so teachers can choose to teach any genocide (sans Holocaust) and satisfy this law
Always fight schmandates. They do absolutely nothing to promote, further, or support Holocaust education. They're worse than nothing. Schmandates actually do more harm than good. Don't settle for a schmandate in your state! Your kids deserve better.
For more info, guidance, or support, contact the author at [email protected].